Spain sees record weekend rise in infections
Spain reported a record rise in coronavirus infections over the weekend and the number of new cases measured over the past 14 days spiked to 436 per 100,000 people on Monday, from 350 on Friday, health ministry data showed.
More than 61,000 new cases were reported since Friday – the largest weekend increase since the pandemic began – bringing the cumulative total to 2,111,782, the data showed. Deaths rose by 401 over the same period to 52,275.
Health emergency coordinator Fernando Simon blamed the surge on lax restrictions over the Christmas holidays and said he expected the increase to continue for some time, Reuters reported.
"We had a better Christmas than expected and perhaps better than we should have had, and now we are looking at the result," he told a news conference. "It's a problem of people's behaviour over Christmas."
He played down the effect of the so-called British strain of the virus, which is more contagious and which has been detected across Spain, and said a return to confinement was not necessary just now, reiterating what ministry officials have said since cases began surging since the end of the festive period.
Regions have been toughening up measures, but they lack the power to enforce home confinement. Health ministry officials have repeatedly affirmed in the past week that a return to full lockdown should not be necessary.
More than 46,000 new cases in Britain
Britain recorded 46,169 new COVID-19 cases on Monday, government statistics showed, with 529 more deaths within 28 days of a positive coronavirus test.
The World Health Organization hopes to be able to launch Covid-19 vaccines in poor and lower middle-income countries in February through its Covax programme, WHO senior adviser Bruce Aylward said on Monday.
"Over 40 countries have now begun vaccinating against Covid-19. However all of that vaccination, or virtually all, was in high income or middle income countries so far," he said. "We have got to see vaccines going into arms in lower and lower-middle income countries."
He said the Covax programme could begin vaccinating people in February, and there was an effort to speed it up so some vaccinations in poor countries could take place this month.
Updated

In England, the health secretary, Matt Hancock, has ruled out support bubbles being removed if restrictions are tightened. But meeting a friend outside could be banned if people don't follow current rules, he said.
You can follow that press conference here:
Updated

The World Health Organization (WHO) said on Monday it had been notified by Japan of a new variant of the coronavirus discovered there.
WHO's director-general Tedros Adhanom Ghebreyesus, who was speaking at a press conference, echoed a statement from Japan's health ministry on Sunday that it had detected a new coronavirus variant in four travellers from Brazil's Amazonas state.
The variant featured 12 mutations, including one also found in highly infections variants discovered in England and South Africa.
Updated

The health ministry of the Palestinian Authority (PA) has approved the main Russian vaccine against Covid-19, known as Sputnik V, for use in Palestinian self-ruled territory, Russia's sovereign wealth fund said on Monday.
In the Israeli-occupied West Bank, Reuters reported that the Palestinian health minister, Mai Al-Kaila, confirmed that her ministry had granted "emergency approval" for the Russian vaccine to be administered in areas under limited Palestinian self-rule.
Deliveries are expected to be completed in the first quarter of this year.
The PA said later it was allocating $10.5m as a down-payment for the first stage of vaccination, to arrive within two months. The final cost will be $21m, Palestinian prime minister Mohammad Shtayyeh's office said in a statement.
How to Wear a N95 Mask
Asked if Israel would permit the Palestinians to import the vaccines, the deputy Israeli health minister, Yoav Kisch, told Army Radio: "Anything to do with Palestinian Authority public health is taken care of by them, (so) I think they have that freedom."
While Israel has become the world leader in vaccinations per capita, Palestinians in the West Bank, and in the Gaza Strip – where Hamas Islamists rule – have yet to obtain their first supplies.
Updated

New lockdown unavoidable, says Portuguese PM
Portugal has suffered record numbers of coronavirus deaths and infections, making a new lockdown unavoidable, the prime minister, Antonio Costa, said Monday.
At a cabinet meeting Wednesday, the government will decide restrictions similar to those imposed during the first lockdown last March, AFP reported Costa saying.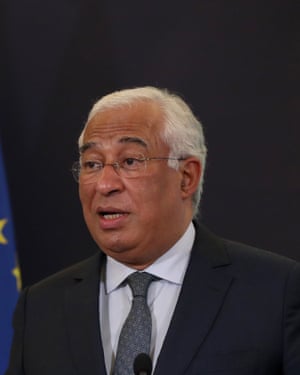 He was speaking after health officials reported a record 122 deaths over the past 24 hours, bringing Portugal's overall toll to 7,965 (see earlier post).
On Friday, officials logged a record 10,176 new cases over a 24-hour period.
A total of 3,983 Covid-19 patients are currently in hospital – a new high – including 567 in intensive care.
"We are certainly facing a third wave" of the virus, Costa told journalists Monday.
Health minister Marta Temido, blaming the recent surge in cases on the Christmas period and the cold snap, said the only solution was to bring down infection levels.
The government will consult public health experts on Tuesday before discussing how best to strengthen the restrictions already in place since early November.
President Marcelo Rebelo de Sousa said on Saturday: "There's no alternative but a general lockdown." The remark came during a debate ahead of 24 January polls in which Rebelo de Sousa is seeking re-election.
Updated

Bangladesh will begin inoculating people against Covid-19 in the first week of February as it hopes to get the vaccine by end of this month, a senior health ministry official said on Monday in remarks reported by Reuters.
The South Asian country of more than 160 million in November signed a deal with the Serum Institute of India to buy 30m doses of the vaccine developed by British drugmaker AstraZeneca.
The vaccine will arrive in the country by 25 January, Abul Bashar Mohammed Khurshid Alam, head of the Directorate General of Health Services, told a news conference.
"The vaccine will be first applied on the health workers and it will be monitored for the next seven days. After that, we'll begin the vaccination across the country in the first week of February," he said.
Frontline workers such as health service providers and police will be given priority, health ministry officials said.
Bangladesh has 523,302 confirmed cases, including 7,803 deaths.
Updated

Italy reported 448 coronavirus-related deaths on Monday, up from 361 the day before, the health ministry said, while the daily tally of new infections fell to 12,532 from 18,627.
However, Reuters reported that the number of swab tests also fell, as often happens over the weekend, amounting to just 91,656 against a previous 139,758.
Italy has registered 79,203 COVID-19 deaths since its outbreak came to light on Feb. 21, the second-highest toll in Europe and the sixth-highest in the world. The country has also reported 2.289 million cases to date, the health ministry said.
Patients in hospital with COVID-19 – not including those in intensive care – stood at 23,603 on Monday, up 176 from a day earlier.
There were 168 new admissions to intensive care units, against 181 the day before.
The total number of intensive care patients rose by 27 to 2,642.
When Italy's second wave of the epidemic accelerated quickly in the first half of November, hospital admissions were rising by about 1,000 per day, while intensive care occupancy was increasing by about 100 per day.
Johns Hopkins University data shows California has recorded more than 30,000 deaths since the pandemic started nearly a year ago.
Deaths have soared in America's most populous state since a Covid-19 surge began in October, AP reported. It took California six months to record its first 10,000 deaths. But in barely a month, the total rose from 20,000 to 30,000.
Over the weekend, state officials reported a two-day record of 1,163 deaths.
California ranks third in the US in coronavirus deaths, behind Texas and New York, where there have been nearly 40,000.
Health officials have warned the worst is yet to come later this month when the full picture on infections from the holidays emerges.
The city of Los Angeles announced late on Sunday that its Covid-19 testing site at Dodger Stadium would be transformed into a vaccination centre by the end of the week.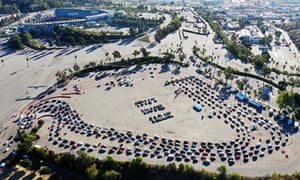 Updated