Vaccine giant says told to prioritise India
One of the biggest logistical exercises in Australia's history, the delivery of coronavirus vaccines to more than 20 million people, has begun.
The government is hoping to have 4 million people vaccinated by March and the entire country inoculated by October – but the timing for when you should expect to get the vaccine is dependent on who you are, how old you are and what you do for work.
Here is what we know of the timeline so far:
Japan's vaccine rollout has encountered a problem less than a week after it was launched.
The country's vaccination tsar, Taro Kono, has said that supply issues mean that vaccinations for older people, due to begin in April, will proceed at a slower pace than originally planned.
Japan began vaccinating 40,000 frontline health workers last week, with 4.7 million additional medical staff to follow in March and 36 million people over 65 and over from April.
But Kono, who doubles as the administrative reform minister, said EU approval for each batch of Pfizer vaccine could mean limited supplies until May.
"We would like to start vaccinations for the elderly in April, but unfortunately the number of doses allocated to them will be very limited at first, so we want to start slowly and gradually expand," Kono told the public broadcaster NHK.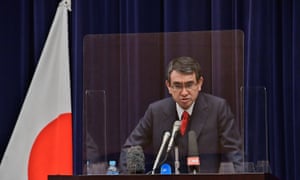 He added that it would be difficult to achieve the government's goal administering jabs to the older population in two months and three weeks in big cities.
Japan has secured 500 million doses of the Covid-19 vaccine from Pfizer, AstraZeneca and Moderna, but has so far only approved the Pfizer vaccine. Delays caused by its cautious approach to the rollout have been exacerbated by its dependence on imports.
The government is sticking to its pledge to secure enough doses for the entire population by June, but no date has been set for inoculating the general population.
Just over 5,000 health workers had been inoculated at 68 medical facilities as of Friday, the health ministry said.
Half of the health workers currently receiving jabs are taking part in a study to track potential side effects. They have been asked to keep daily records for seven weeks after receiving the first of two vaccinations, with the second shot coming three weeks after the first.

Vanuatu and New Caledonia to open safe travel corridor
Vanuatu and New Caledonia will open a safe travel corridor between the two countries – a 'tamtam bubble' between the Melanesian neighbours.
Vanuatu prime minister Bob Loughman said the travel bubble will open in April, with travel initially limited, at Vanuatu's end, to the main island of Efate.
"New Caledonia has shown that it could manage its COVID-19 risk properly and has followed health and security rules set by the government of Vanuatu," Loughman said.
"Also, Vanuatu and New Caledonia share a history and connections. This makes it safe and secure to pilot the travel bubble with New Caledonia. The bubble will be implemented initially with Port Vila before other islands.
"The extended focus of the bubble includes people seeking medical assistance, students traveling for education, technical experts and visitors."
A tamtam is a traditional wooden slit drum.
New Caledonia and Vanuatu's borders remain closed to travellers from other countries for the time being, though both are looking at ways they can safely open to travellers to help re-ignite stalled tourism industries.
Neither New Caledonia or Vanuatu has had a single Covid death. Vanuatu is currently free of the novel coronavirus. Vanuatu has had three cases in the past seven days, according to World Health Organisation figures.
Coronavirus vaccines are being rolled out across Australia in what experts says marks the start of the "final phase of the pandemic".
Those at the highest risk of infection, including quarantine and health hotel workers, frontline health staff and airport and port workers, were the first to receive it on Monday:
Biden to mark US crossing 500,000 deaths with moment of silence and candle ceremony
UK homeless deaths rise by more than a third in a year, study finds
Deaths among homeless people have risen by more than a third in a year, according to an analysis by a social justice group that found that almost 1,000 unhoused people had died across the UK in 2020.
The Museum of Homelessness (MoH), a community-driven organisation which runs the Dying Homeless Project, called for action to prevent a repeat of such "terrible loss of life". Among cases where a cause of death was confirmed, 36% were related to drug and alcohol use and 15% were suicide.
Jess Tuttle, the organisation's co-founder, said the findings demonstrated how the pandemic had hit a system "already cut to the bone from 10 years of austerity". The MoH is now calling for a national confidential inquiry into homeless deaths.
A total of 976 deaths were recorded across the four nations in 2020: 693 in England and Wales, 176 in Scotland, and 107 in Northern Ireland. There were 710 deaths registered in the 2019 study, the group said:
How to Wear a N95 Mask