Inauguration day summary
In the moments following Joe Biden taking his oath of office, Pope Francis, the head of the Catholic Church, published an open letter to Biden congratulating him on his entry into office.
"I extend cordial good wishes and the assurance of my prayers that Almighty God will grant you wisdom and strength in the exercise of your high office."
Pope Francis alluded to the Covid-19 pandemic, calling it the "grave crises facing our human family" and said response to it calls for "farsighted and united responses".
"I pray that your decisions will be guided by a concern for building a society marked by authentic justice and freedom," Pope Francis wrote in his letter.
"I likewise ask God, the source of all wisdom and truth, to guide your efforts to foster understanding, reconciliation and peace within the United Stations and among the nations of the world in order to advance the universal common good."
Biden is the second Catholic US president, the first being John F Kennedy, and he attended a pre-Inauguration mass this morning at the Cathedral of St Matthew the Apostle in Washington.
Pence departs the Capitol as a former vice-president
In his last act as president, Donald Trump pardoned Albert Pirro Jr., the ex-husband of Fox News host Jeanine Pirro, in the last hour of his presidency. Pirro was convicted of conspiracy and tax evasion.
Pirro appears to be the person on Trump's long list of pardons that he has granted within the last 24 hours. Pirro joins 73 others, including Steve Bannon and rapper Lil Wayne, whose loyalty to Trump has paid off in forgiveness for federal crimes.
Just minutes before Joe Biden became president of the United States, Trump landed in Palm Beach, Florida, after giving a farewell speech at Joint Base Andrews.
Kamala Harris was just sworn in as vice president, officially making her the first woman, Black American and Asian American to hold the title.
People around the country celebrated her swearing-in, noting the moment marks many firsts in American history.
That supreme court justice Sonia Sotomayor, the first Latina and woman of color to serve on the court, administered Harris' oath added another layer of poignancy to the occasion.
Perhaps the reaction from those celebrating the moment in history can be summed up by Barack Obama exclaiming "Alright!" after Harris finished saying her oath.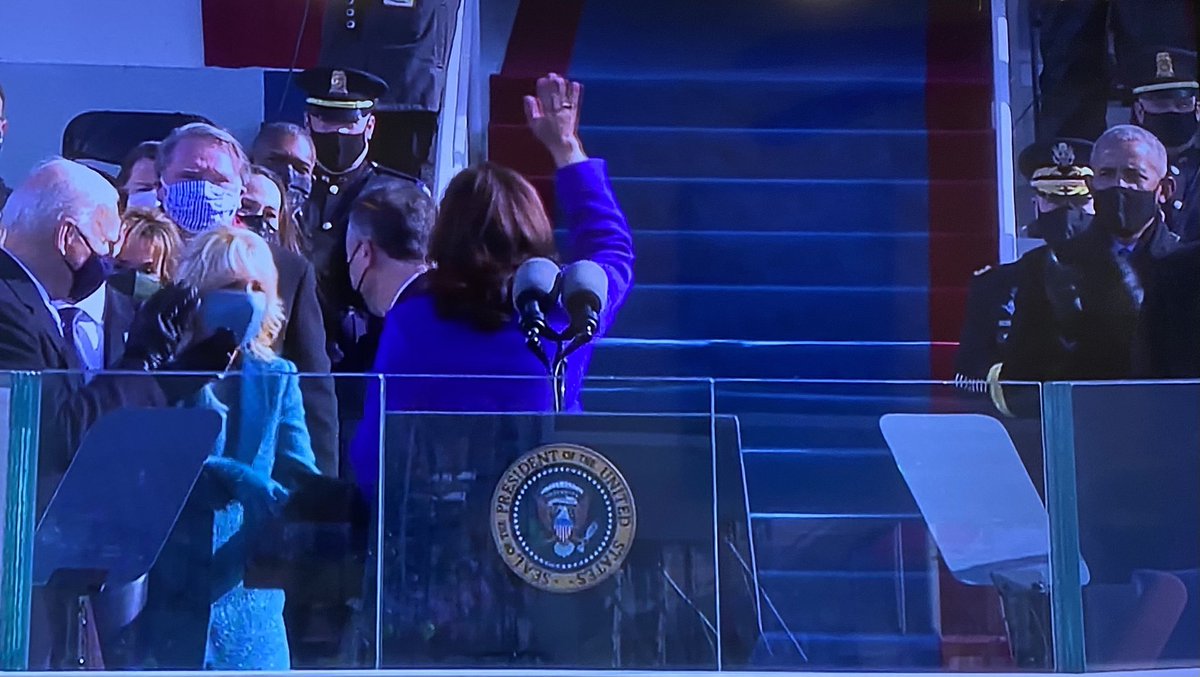 Inaugural ceremony concludes